Growing Older on the Yorke Peninsula
6 April 23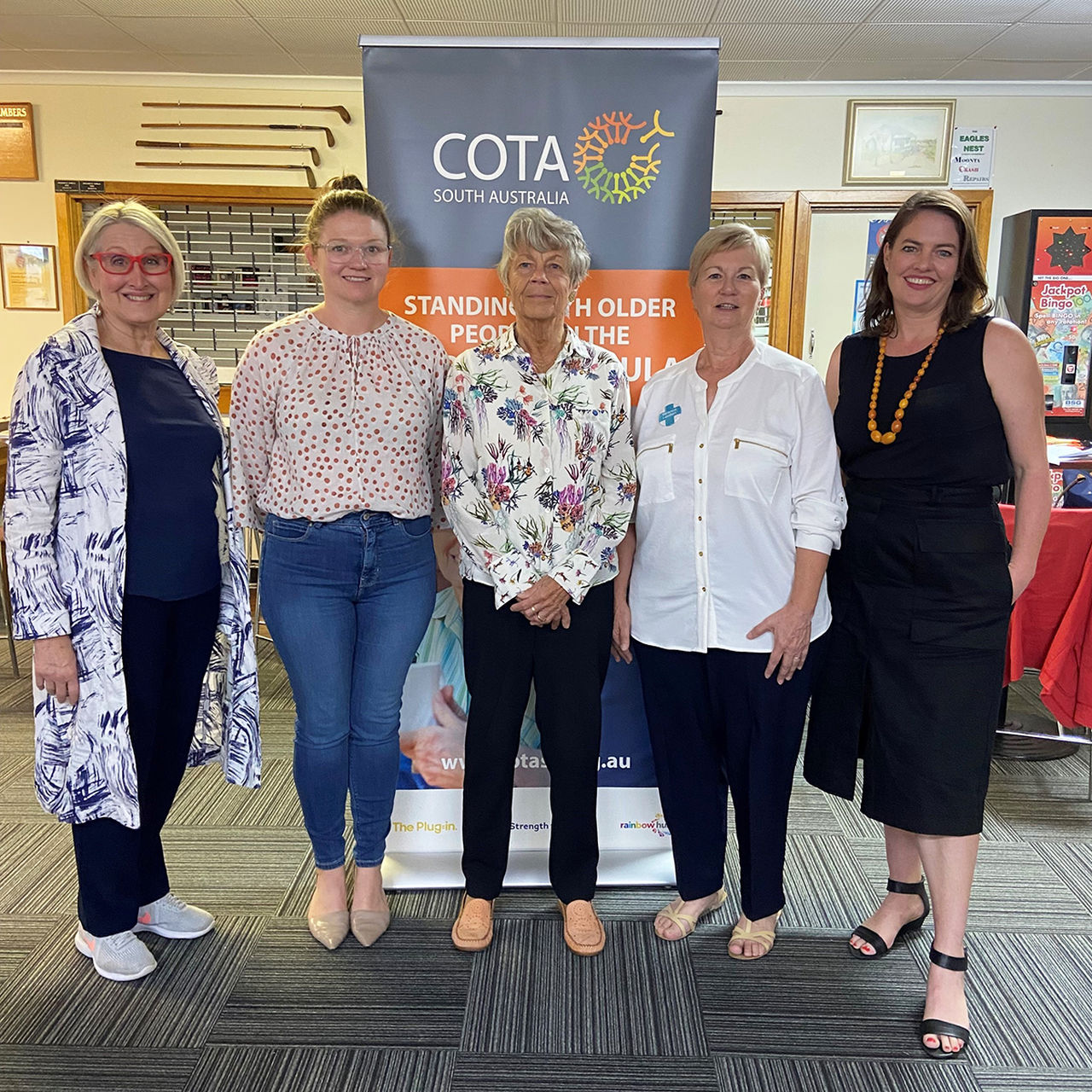 On 5 April, COTA SA's Yorke Peninsula Advisory Group hosted an event on Narungga Country, Moonta about growing older on the Yorke Peninsula. More than 40 South Australians aged 50 years and over attended the event to talk about their individual experiences of ageing on the Yorke Peninsula. To set the scene, COTA SA's President Professor Anne Edwards AO gave a keynote address about the history of COTA SA and the importance of challenging ageism, and COTA SA's Chief Executive Miranda Starke gave an overview of COTA SA's programs, research and policy work. It was a special event for Miranda as her first official engagement as COTA SA's newly appointed Chief Executive.
The event, designed to provide COTA SA with greater insight into the most joyful parts and challenges of ageing in regional South Australia, evoked rich and lively conversation on the day with a diverse range of views and experiences shared by those who attended.
Overwhelmingly, we heard about the deep connection people have to the region and consider themselves lucky to live there. There is an extraordinary sense of community that is safe, welcoming and social, and we certainly witnessed this firsthand at the event.

The group identified some key opportunities for improvement that would improve ageing well in the Yorke Peninsula:
Better community transport and patient transport including to and from Adelaide
Support to access digital services and use technology
Improved health services such as mental health support, greater access to nurses at medical centres, dementia services and carer support
Increased home care services
Better access to information about the services and activities available.
COTA SA will use these insights to continue to build our policy and advocacy platforms and generate new ideas of how our Yorke Peninsula Advisory Group can best connect people to information about services and activities in the region, and to each other.
Ageing in regional South Australia is a key priority in COTA SA's policy platform. Read our latest policy submission for the State Budget 2023/24
We give special thanks to four Yorke Peninsula Advisory Group members for helping to make the event a success: Vivienne Lambert, Chair of our Yorke Peninsula Advisory Group; Mariette Rups-Donnelly who emceed our event, Max Stevens, and Kath Lamshed who coordinated the venue. Thank you also to Kate Martin and Richard Herbert for being part of the panel discussion, and to everyone who attended the event.
COTA SA acknowledges that our event was held on the land of the Narungga people and we pay our respects to Narungga Elders past, present and emerging. We extend our respect to all Aboriginal people.