COTA SA's Silver Rainbow LGBTI aged care awareness training will assist your organisation to build awareness around the experiences and needs of older LGBTIQ+ people and provide a stepping stone to understand and implement LGBTI inclusive practices in your organisation.
Delivered through the Rainbow Hub, our informative and engaging LGBTI aged care awareness training is for aged care services, assessment teams, allied health services and other aged care stakeholders, and is designed to address the Aged Care Quality Standards and their relationship to LGBTI cultural safety in aged care.

Silver Rainbow is managed by LGBTIQ+ Health Australia and funded by the Australian Government Department of Health. COTA SA is the South Australian partner of this program which is delivered collaboratively with project partners across every state and territory in Australia.
Silver Rainbow training program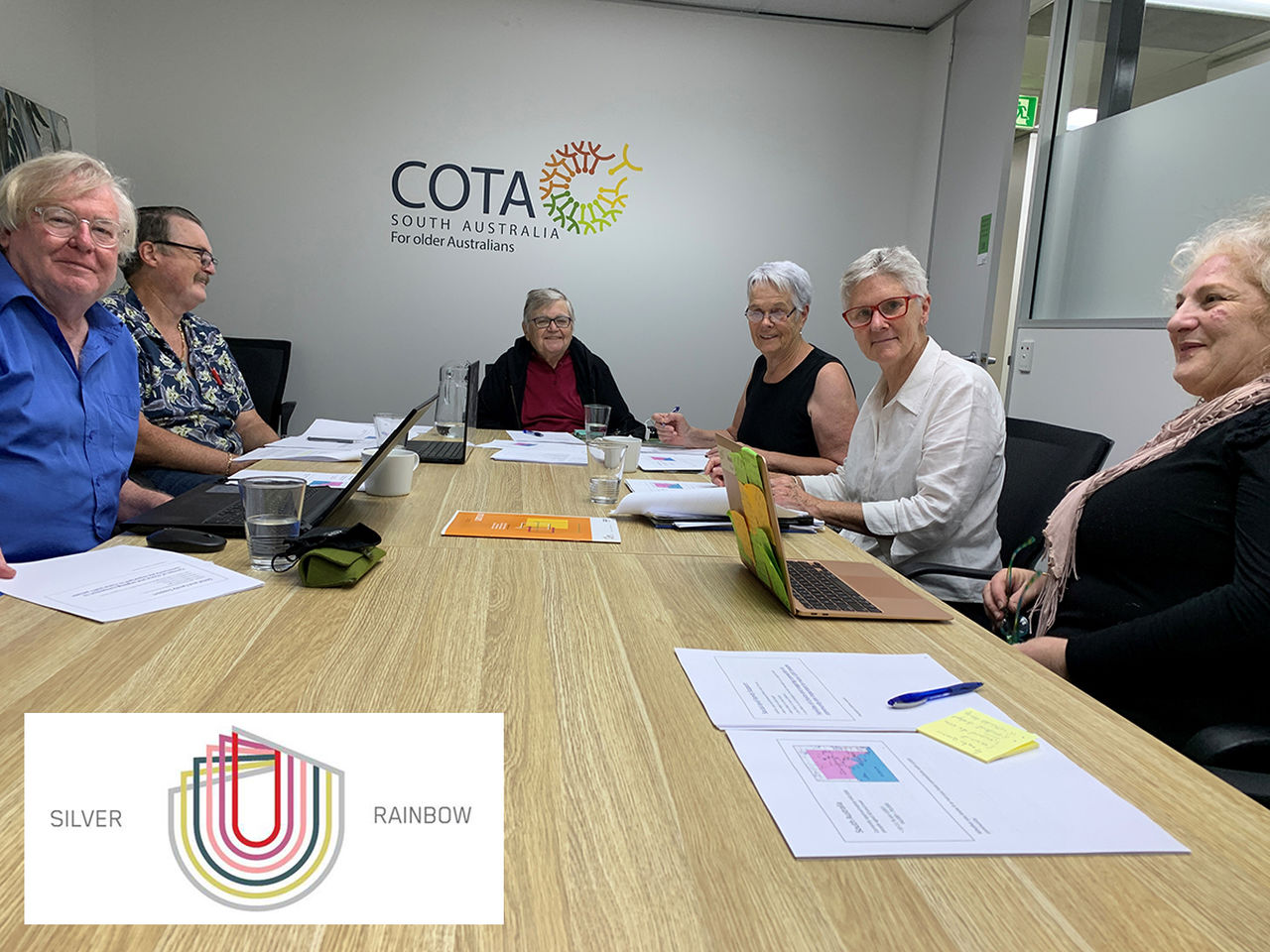 Silver Rainbow training is appropriate for a range of staff and roles across the aged care sector and includes interactive activities, presentations of LGBTI research, policy and legislation, case studies, educational videos and facilitated discussion.

Our Silver Rainbow training and consulting team create an environment that facilitates safe, accessible and open discussion to develop an understanding of the history and experiences of older LGBTI people and how these may impact access to aged care services.
Using a range of interactive activities, case studies and research-based evidence, our training and consulting team will help your staff to become LGBTI aware, and build knowledge and skills in inclusive practice, that are consistent with Australian Aged Care Quality Standards and the principles of diversity and inclusion.
For further information about the training or to book, please contact:
08 8232 0422 (1800 182 324 for country callers)
cotasa@cotasa.org.au
Learning from lived experiences
COTA SA's trainers are an experienced group of trainers who are themselves older LGBTI people with their own lived experiences. This group was drawn from an Advisory Group who were recruited to support the LGBTIQ People Ageing Well project.
The LGBTIQ People Ageing Well project commenced in April 2017 as a 12-month joint project between COTA SA and the South Australian Rainbow Advocacy Alliance (SARAA), funded by the then Department for Communities and Social Inclusion (DCSI). The main aim of the project was to engage with older people from South Australia's LGBTI communities to find out what matters most to them as they age to better inform policy and create a groundswell for change to the policies that impact on the lives of older LGBTI people. The project also celebrated the lives and contributions of older LGBTI people.
Their stories and lived experiences have the power to promote a greater understanding of a unique set of issues, but also the power to create changes that will support and enhance the lives of South Australia's older LGBTI population.
One of the key issues that arose through the conversations with older LGBTI people was aged care and in particular the concerns people had about accessing services as they aged. It was on the strength of these findings that COTA SA applied to become the SA partner with the Silver Rainbow project.
COTA SA's Silver Rainbow's Community of Practice is for anyone who is a worker or is interested in the aged care sector; we share questions and observations and discuss issues relating to providing services and care to LGBTIQ+ elders.
See upcoming events here. Hear about future events by subscribing below to receive our SA Silver Rainbow Community of Practice e-news.
Previous discussions include:
Stay up-to-date with the Silver Rainbow by subscribing below to receive our SA Silver Rainbow Community of Practice e-news.
Previous editions of the Community of Practice e-news
We're All in This Together
Young queer Australians audition to retell stories from their elders who paved the way for their rights. Scripted verbatim from interviews, accounts of public protest, police brutality and isolation from queer history are retold and reimagined by a younger generation.
Click on the play button over the image to the right to watch the documentary. Running time 17 minutes.
For further information about the Silver Rainbow project or to enquire about booking a training session, please contact:
08 8232 0422 (1800 182 324 for country callers)
cotasa@cotasa.org.au